While the world gently weeps...I cry hysterically...May my George rest in peace in the gentle arms of my sweet Lord, a God that he has longed to see.

Each night before you go to bed....whisper a little prayer for George....and tell all the stars above..."This is dedicated to the one I love"

November 30, 2001- I woke from unsound slumber. I put on my London shirt feeling a common since of pride for my beloved Beatles. My mom took me to Brugger's Bagels for breakfast. When I got into the car a sharp pain went through my stomach. I didnt say anything because I wanted to go to school since there was a dance that night. When at the bagel shop, the pain was unbearable and my mom took me home.
I entered my bedroom, greeted by the smiling faces of John, Paul, George, and Ringo. I glanced at a newspaper article posted on my wall. "Harrison undergoes cancer treatment in New York", the headline read. 'God, please let him get better', I silently prayed for George as I lay down in my bed. When my mom came in with the thermometer, she commented on how pale I looked. I didnt have a fever, however, but my temperature was frightfully low. 'Whats wrong with me?', I thought. My dad woke me up at 9:30 am and asked how I felt. I was feeling much better so I decided to go to school.
I arrived in the middle of third period, health. When I entered the room I must have looked pretty bad, because my teacher asked me if I was alright. "Sure, I'm fine", I said. "Oh, I just thought maybe you were upset about George", she replied. 'George??? What happened to George???', I thought.
Fourth period was my clarinet lesson. On the way to the band room I bumped into my friend Elise. She greeted me with a smile but seeing my forlorn expression, (I was still feeling kind of sick), she asked me if I knew about George. "Why do you people keep asking me about him? Yes, I know he's sick, he's been sick for years! Just stop rubbing it in!", I shouted. "Katie, he died last night," Elise said. Oh my goodness...GEORGE! My George Harold Harrison...dead? No way...Elise couldn't be telling me this...I cryed, I couldn't help it, I cryed all through that day, and I'm still crying...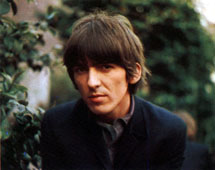 'All Things Must Pass'

Sunrise doesn't last all morning
A cloudburst doesn't last all day
Seems my love is up and has left you with no warning
It's not always going to be this grey

All things must pass
All things must pass away

Sunset doesn't last all evening
A mind can blow those clouds away
After all this, my love is up and must be leaving
It's not always going to be this grey

All things must pass
All things must pass away
All things must pass
None of life's strings can last
So, I must be on my way
And face another day

Now the darkness only stays the night-time
In the morning it will fade away
Daylight is good at arriving at the right time
It's not always going to be this grey

All things must pass
All things must pass away
All things must pass
All things must pass away